Company foundations, shelf companies, trust companies
From company formation, shelf company, trust company to individual formation: See the comprehensive range of services offered by SiBa Wirtschaftskanzlei GmbH in Germany. Thanks to our wealth of experience founding corporations in Germany and Austria, you are always in safe hands:
Company formation
You want to establish a GmbH or UG and do not want to deal with the lengthy formalities? Have a company founded instead of founding one yourself: We therefore offer you ready-made start-up packages. Nevertheless, we can advise you individually on this. We will take care of the company formation of a German company for you in Berlin or in any other city in Germany. The formation of an Austrian GmbH we do just as quickly:
Individual company formation
You need support with a very special and individual formation of a GmbH, UG or AG. We advise you and take care of the formation for you according to your wishes and special needs. Talk to us.
You need a shelf company?
Sometimes things need to move fast – good, if you can then just buy a shelf company already established by us. We always have several ready-made companies (Shelf GmbH or Shelf UG) in Germany or Austria available for you. Within a short time, you are able to act including a bank account and tax registration:
buy German Shelf Company UG
buy German Shelf Company GmbH
buy German Shelf Company AG
buy Austrian Shelf Company GmbH
Trust companies for every need
We can set up a trust company for you or you can fall back on an already established shelf company.
Trust foundation packages
We set up your trust company with a trustee shareholder:
UG Trust Company Formation
GmbH Trust Company Formation
Trust shelf companies
We also offer that. We always have several fully established companies (as shelf GmbH or shelf UG) available for you. You can buy a shelf company with trust service already founded by us. You will be able to act within a short time, including a bank account and tax registration:
Shelf Company UG with Trustee Service
Shelf Company GmbH with Trustee Service
You are looking for a trustee for your existing company?
A solution can be found here as well, contact us.
We incorporate nationwide in Germany and Austria and are internationally active for you!
We incorporate for you nationwide in all German and Austrian cities. Your company can therefore take up residence at any location in Germany or Austria. Even if you are personally located outside Germany or Austria, this is not a problem.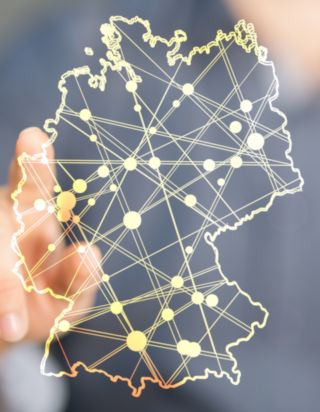 You can instruct us online from the comfort of your home.
The correspondence is sufficient in most cases by telephone or e-mail, so that an office visit is not mandatory.